Obama arrives in Germany ahead of key speech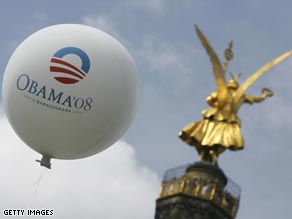 U.S. presidential contender Barack Obama arrived in Germany Thursday for the latest leg of an international trip intended to bolster his foreign policy credentials. Obama, the presumptive Democratic candidate, who will also visit France and the UK before heading home, is due to give a public speech in Berlin later following talks with German Chancellor Angela Merkel.
But Obama's performance will likely be intended as much for an audience in the U.S. as for the German crowds expected to gather in front of the Victory Column in Berlin's Tiergarten Park
.

Obama
had originally hoped to speak in front of the iconic Brandenburg Gate, where U.S. President John F. Kennedy was greeted by ecstatic crowds in 1963 when he visited the city shortly after the Berlin Wall had been built.
That suggestion was apparently vetoed by Merkel. But as a youthful candidate promising change who has frequently been compared to Kennedy, Obama's strategists hope a warm welcome from Germans will play well with voters.
CNN European Political Editor Robin Oakley said Obama enjoyed widespread popularity in Europe.
"He is somehow one of those politicians who reaches other parts other politicians don't reach," said Oakley. "After the unpopularity of George W. Bush, the world is waiting to love America again and they see in Obama, with his youth and his optimism, somebody who can bring that about."
But Oakley said Obama also needed to prove to Americans as well that he could defend U.S. interests abroad. Republican rival John McCain's campaign team has frequently criticized Obama as being inexperienced on foreign policy and a recent poll suggested just 48 percent of Americans thought he would make a good commander in chief, compared to 72 percent for McCain.
Talks between Merkel and Obama were expected to include discussion of Afghanistan, Iraq, trade, climate change and NATO. Oakley said European leaders would be seeking confirmation that Obama, if elected, would be a "listening president."
In addition to Merkel, Obama is slated to meet with British Prime Minister Gordon Brown and opposition leader David Cameron as well as French President Nicolas Sarkozy.
Prior to leaving Israel earlier Thursday, Obama paid a pre-dawn visit to one of Jerusalem's holiest sites, the Western Wall.
Under tight security, he arrived at a section of the Western Wall that had been cordoned off. The visit had not been announced in advance, but dozens of people were waiting in the darkness for his arrival.
Wearing a white yarmulke, the Illinois senator walked towards the site with the Rabbi of the Wall, Shmuel Rabinovich. The rabbi read Psalm 122, and he and Obama looked through a Holy Book before Obama left a note, a custom of visitors to the site.Obama bowed his head and placed his hand on the wall for a few moments. CNN producer Sasha Johnson, a pool reporter for the brief visit, said a man screamed "Obama, Jerusalem is not for sale" despite pleas from the crowd for him to stop.
Obama has already visited Jordan, Kuwait, Afghanistan and Iraq. He has said he is making the trip as a senator from Illinois and not a presidential candidate.
On Wednesday Obama said he would be willing to meet with any leader if he thought it would promote the national security interests of the United States, but he said there is a difference between "meeting without preconditions and meeting without preparations."
"That continues to be my position: that if I think that I can get a deal that is going to advance our cause, then I would consider that opportunity," he said.
"My whole goal in terms of having tough, serious direct diplomacy is not because I'm naive about the nature of any of these regimes. I'm not," Obama said. "It is because if we show ourselves willing to talk and to offer carrots and sticks in order to deal with these pressing problems, and if Iran then rejects any overtures of that sort, it puts us in a stronger position to mobilize the international community to ratchet up the pressure on Iran."
After Obama's remarks, McCain's campaign accused the Democrat of shifting his position and said his comments show "his refusal to admit a mistake about what he said."
Label: News